The Best Choice for Moving and Eviction in NYC
Moving or eviction in NYC can be incredibly stressful and overwhelming for landlords and property owners, but hiring reputable and reliable movers can help alleviate some of the worry and burden.
If you're looking for local eviction moving assistance, then you have come to the right place. Bennett Movers NYC is the top choice for local commercial movers, residential homes movers, and apartments, and also eviction moving and storage services.
Need help evicting or moving a tenant? Calling an experienced, reliable, and professional New York moving company can help ease your worries and also make the moving and eviction process that much easier.
About Bennett Eviction Movers
The Bennett Movers team has over 25 years of experience and is fully licensed, insured, and equipped to pack and move any amount of items and properties of any size.
The eviction process in New York can be challenging as there are many laws and regulations surrounding both landlords and tenants. The process also involves a great deal of paperwork that can easily become overwhelming. Bennett Movers can help with the eviction process, eviction moving, storage services, and more.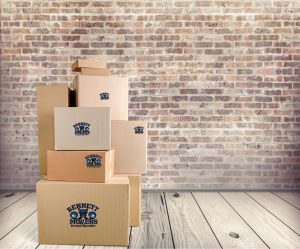 Here are just some of the services provided by Bennett Movers:
Packing and moving (commercial properties, residential properties, and apartments)
Eviction moving services—filing paperwork with the Sheriff's office, moving items, arranging storage
Providing eviction documents needed by landlords and property owners
30-day storage services
So, regardless if you own an apartment complex or building, a commercial property, or a single-family home, if you believe it's time to begin the eviction process, know that there is someone you can call for help. Bennett Movers is known as one of the best eviction movers for a good reason.
How to Evict a Tenant in New York State
Unfortunately, too many property owners and landlords have abused their privileges over the years, leaving many tenants homeless or out on the street. Although there are more laws and regulations protecting tenants, property owners and landlords have become less favored.
However, there are situations when a landlord or property owner is well within his or her rights to evict a tenant. The most common situation is failure to pay rent or the breach or expiration of lease or rental agreements.
If a property owner or landlord believes it's time to begin the eviction process, then he or she must provide the tenant with a "notice to evict" written warning in advance. The type of written warning or notice depends on the rental or lease agreement enacted.
For example, a month-to-month lease agreement requires a landlord to provide the tenant with a 30-day written notice to evict. On the other hand, with tenants that are under an annual lease or rental agreement, landlords must wait until after the lease term ends to evict a tenant (unless the tenant has breached or failed to maintain his or her responsibilities, such as paying rent). This is in accordance with New York state laws.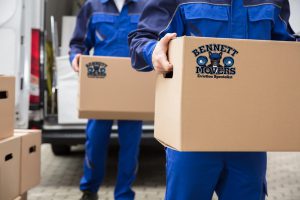 The Bennett Movers team is available to help customers with the eviction process by providing them with the necessary documentation and paperwork required by the court, banks, tenants, or even the local police department to ensure a smooth and legal process that abides by New York State laws.
Bennett Movers also helps arrange appointments with the Sheriff's Department and provides landlords and property owners with what they need to begin the eviction process. The team will also step in and begin packing, moving, and arranging storage for evicted tenants.
Most landlords, property owners, and property management companies that are forced to evict tenants are often under tight financial constraints as a result. Not only does Bennett Movers go above and beyond to help navigate the eviction process for property owners, they also don't require upfront deposits!
Who Can Benefit from Bennett Movers?
Regardless of whether customers are individual landlords or a large property management company, Bennett Movers is the top choice for eviction help in New York. Through the years, Bennett Movers has helped various property owners and organizations with moving, storage, and eviction.
Bennett Movers specializes in working with:
Commercial property owners
Landlords
Real estate and bank-owned properties
Property management companies
Furthermore, no job is too large or too small for Bennett Movers. They will help pack and move small apartments and studios, single-family homes, commercial properties and even bank-owned properties. Bennett Movers has the moving crew you need to get the job done in a timely manner.
Local Commercial Movers
Bennett Movers is a trusted New York moving company that has been serving various communities in New York and northern New Jersey for years.
We serve the following communities and neighborhoods:
Northern New Jersey
Westchester County
Nassau County
New York County
Bronx County
Queens County
Richmond County (Staten Island)
Kings County (Brooklyn)
Eviction Movers Are Just a Phone Call Away
If you are a property owner, landlord, or a member of a property management company, and you believe it's time to evict a tenant, then you can count on Bennett Movers for local moving and eviction help.
Bennett Movers is well versed in the eviction process compliant with New York State laws, and can advise property owners and landlords on the best course of action to evict a tenant.
The team at Bennett Movers can help you get a start on the documentation and paperwork necessary to evict a tenant. Whether it's filing the necessary paperwork, making an appointment with the Sheriff's office, or beginning the packing and moving process, Bennett Movers is there from day one.
Looking for help with eviction in NYC? Bennett Movers is the professional and experienced New York moving company you need to help with your moving, storage, and eviction needs.
Call our team today to learn more about our moving and eviction services and get a free quote.