Richmond County- Staten Island Movers
If you are a landlord or property owner of any kind, and you believe it's time to evict a tenant but aren't sure of where to turn, count on Bennett Movers—the Staten Island movers. Bennett Movers has over 25 years of experience in packing, moving, storage services and eviction. We have been serving the Richmond County and Staten Island areas for decades.
At Bennett Movers, we understand that the eviction process isn't always pleasant. Although it's important for property owners and landlords to take back what is rightfully theirs, the eviction process can be complicated, difficult to navigate, and incredibly stressful. In some cases, eviction can end up becoming a long, drawn-out, ugly court case. But with Bennett Movers by your side, we can help ensure that the eviction process goes as smooth as possible.
Bennett Movers helps property owners and landlords navigate the eviction process in Richmond County and Staten Island from start to finish. We help organize and prepare the necessary paperwork to provide tenants as well as the county sheriff, and also help with the packing, moving, and storage logistics.
Without having a reputable eviction and moving team on your side, the eviction process in the state of New York can certainly be a challenge. Fortunately, Bennett Movers is available to help customers navigate the Staten Island eviction process, and more.
How Do Eviction Movers in Staten Island Work?
As a leading choice for eviction movers in Staten Island, our process is very simple. Give us a call or fill out a quote form, and our specialists will determine a rough price estimate based on the details of your situation. Once a moving day is established, our relocation staff will visit you at the site to begin removing items and belongings from the property. Payment is due on the moving date, and we do not require deposits. Also, if any storage is required during a transition, we can provide 30-day, temporary storage units.
Evicting a Tenant in Richmond County | Staten Island
Evicting a tenant in Richmond County/ Staten Island must follow a process that abides by New York state laws. New York state laws surrounding property owners' and tenants' rights have changed drastically. Both parties have property rights to different extents and must abide by a month-to-month or annual rental or lease agreement. If either party breaches the agreement, then the county sheriff may get involved or the eviction process kicks in.
All in all, a property owner or landlord does have the right to evict a tenant with or without cause. However, regardless of cause, the landlord does have to provide a 30-day advanced eviction notice to tenants. Tenants must be allowed advanced notice in order to make moving arrangements and find another place to live. This is the case for either a month-to-month lease or an annual lease.
However, with an annual lease in place, property owners and landlords must wait until the lease agreement expires before providing tenants with an eviction notice, unless of course a tenant breaches the agreement. Even still, landlords must give at least 30 days notice.   
Regardless of the reason for eviction, the landlord or property owner must complete the paperwork required by law and file it with the Richmond and Staten Island county sheriff's office. Bennett Movers is available to help prepare and file the necessary paperwork. Our team is also available to help plan and arrange packing, moving, and storing tenants' belongings for up to 30 days.
In some cases, tenants may refuse to leave a property, even after providing an eviction notice. Of course, this makes any eviction process that much more of a headache. However, Bennett Movers is equipped to properly handle these situations, and can help property owners and landlords accordingly.
Bennett Movers stands by your side to ensure that the eviction process is a smooth one. Call our team of eviction movers in Staten Island and Richmond County to learn more about how we can help.
Bennett Movers Specialize in NY Eviction
Bennett Movers has earned a reputation for being the best moving company specializing in NY eviction. The team of Bennett Movers is known throughout Staten Island and Richmond County for a good reason. Bennett Movers is also equipped to deal with any job or property size, no matter how big, small or messy.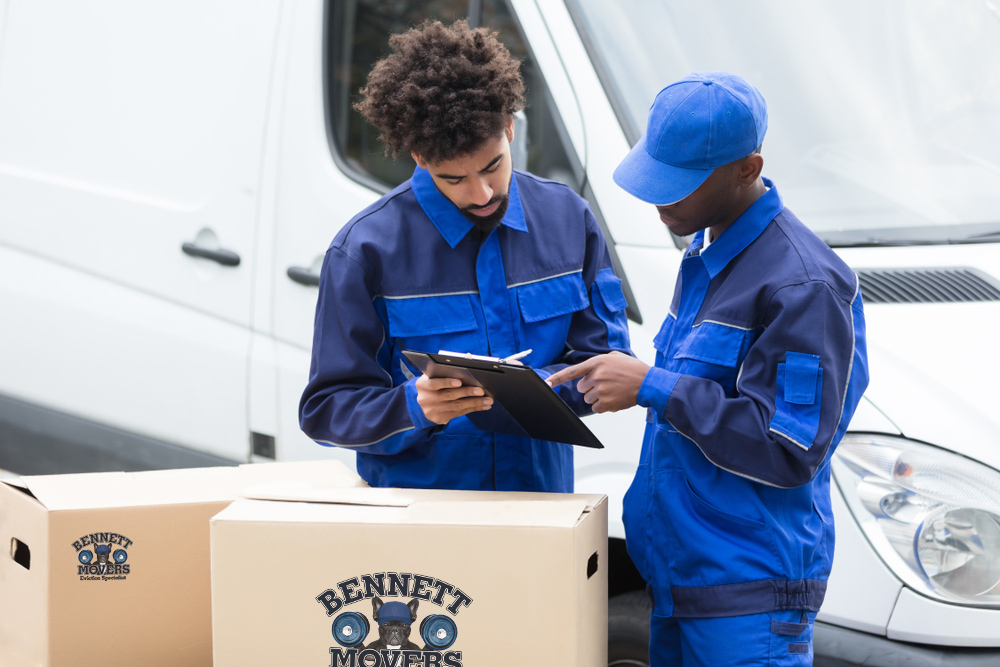 The team at Bennett Movers helps customers and property owners of housing and apartment complexes, single and multi-family residential homes, commercial properties, bank-owned properties and warehouses. Our diverse customer base includes individual property owners and landlords, real estate companies, and even property management companies. We know how difficult and challenging it can be to evict a tenant, so we make sure that we are available to answer your questions and advise you on the best possible course of action.
If you are looking for affordable movers in Richmond County and Staten Island, then give the team at Bennett Movers a call today! We offer affordable, competitive rates, which include hourly and/or flat free rates—and we don't require upfront deposits! So, regardless of whether you are looking for packing, moving, storage or eviction services, Bennett Movers has you covered.
At Bennett Movers, our team takes the time to speak with customers about the eviction concerns, and we also provide free estimates. It costs you nothing to speak with us, except two minutes of your time. So, give us a call today for a FREE estimate.
We look forward to serving you!