Best Brooklyn Movers
If you are a property owner or landlord, and you believe it's time to evict a tenant, then you need a team of Brooklyn movers that you can count on. Bennett Movers is the best choice of Brooklyn movers for eviction. We help property owners, landlords, property management companies and even real estate teams with packing, moving, storage and eviction services in Kings County Brooklyn.
Most landlords and property owners would agree that dealing with eviction is stressful and overwhelming. The eviction process in the state of New York is also challenging, especially for property owners who are unfamiliar with the legal consequences. Not only is it difficult to deal with tenants who have breached their lease, it also involves piles of paperwork and other logistics.
Bennett Movers is available to help landlords and property owners handle the eviction process from start to finish. Our team provides customers with an eviction notice template, prepare and file the legal paperwork with the county sheriff's office, and also make packing, moving, and storage arrangements.
Where Can I Find Brooklyn Movers for Eviction?
As Brooklyn movers for eviction, we operate out of our relocation facility in Hempstead, New York, that's within a short ride of every major borough and county. We've been providing the citizens of New York fast eviction services from this location for nearly 25 years, and our proximity to the border also gives us the ability to reach the northern counties of New Jersey. If you've evicted a tenant, or have been evicted yourself, then fill out our quote form and our specialists will contact you regarding price estimates.
Eviction- Best Movers in Brooklyn
In the state of New York, there are laws protecting and respecting the rights of both property owners and tenants. Property owners have a right to their own assets, and tenants have a right to seek shelter. Therefore, property owners and landlords cannot evict a tenant without providing advanced written notice; and tenants are required to follow the terms outlined in a lease agreement. Lease or rental agreements can be 30 days or yearly, depending on the property and the needs and requests of the property owner.
If a property owner or tenant believes it is time to evict a tenant, then he or she must provide a 30-day advanced written notice to tenants. If a property owner has an annual rental agreement with his or her tenants, then he or she must wait until the lease has expired before the eviction process can begin. This is in accordance with New York state laws.
If you have questions regarding the eviction process in Kings County and Brooklyn, Bennett Movers has the answers you need and more. With over 25 years of experience serving the New York state and northern New Jersey areas, the team at Bennett Movers is well versed in the eviction process according to New York and New Jersey state laws, and can help advise customers accordingly.
At Bennett Movers, we help with everything from organizing and preparing paperwork to making appointments with the county sheriff.
Once the county sheriff has paperwork on file, Bennett Movers can then help property owners deal with the logistics of Brooklyn eviction, such as packing, moving, and storage.
Bennett Movers in Kings County | Brooklyn
The eviction process in Kings County/ Brooklyn areas follows New York State laws. If you are a landlord or property owner of an apartment or housing complex, or a residential or commercial property, and your tenant has breached a lease agreement, then your first phone call should be to Bennett Movers.
Bennett Movers is experienced in helping various property owners and real estate companies deal with eviction in Kings County/ Brooklyn quickly and efficiently. In fact, the team at Bennett Movers is equipped to deal with the eviction process in less time, and less frustration.
Bennett Movers specializes in working with the following customers and properties: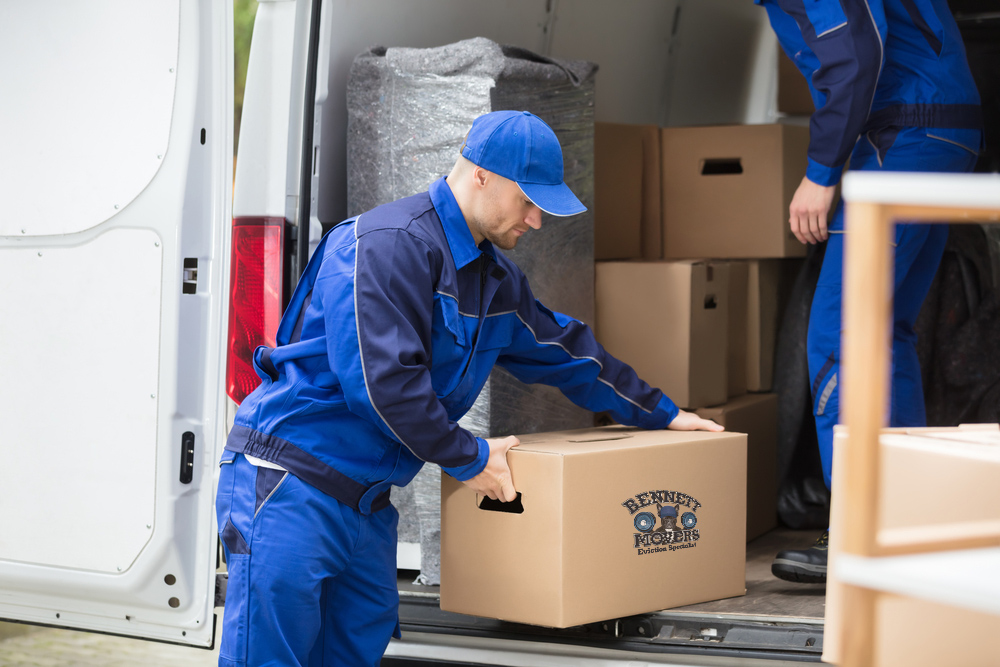 Single – and/ or multi-family residential properties

Apartment or housing complexes

Property management companies

Real estate companies

Commercial property space (including offices and warehouses)

Bank-owned properties
Bennett Movers offers a number of services, including packing, moving, arranging storage and also eviction throughout the Kings County/ Brooklyn areas. Bennett Movers is known for being one of the best eviction movers in Brooklyn and throughout the state of New York and northern New Jersey.
Get in Touch with Bennett Movers for Eviction
Bennett Movers has been working with different customers, including property owners, landlords, real estate and property management companies throughout the Brooklyn area for decades. We help customers with eviction, regardless of property or job size!
Customers call on Bennett Movers for their affordable and competitive rates. Bennett Movers offers both hourly and flat fee moving rates. We understand that many property owners that are dealing with the eviction process are also under serious financial constraints. Therefore, Bennett Movers doesn't require upfront deposits. Bennett Movers also provides free estimates anytime, anywhere.
If you are ready to begin the eviction process for your property in the Kings County/ Brooklyn areas, then call the team at Bennett Movers today. We will guide you through the eviction process, provide you with the necessary paperwork, contact the local county sheriff, and arrange for packing and moving. With Bennett Movers by your side, you never have to go through the eviction process alone.
Call our team today for more information on pricing and to request a free quote.