Westchester Movers
Owners, landlords, and property managers can take advantage of an experienced team of Westchester movers. When dealing with an eviction, it is all too easy to get buried under mountains of paperwork and lost in the maze of red tape. Complicated laws on the tenant/ landlord relationship in New York and northern New Jersey make working with a team of Westchester eviction movers the practical solution to a stressful problem.
If the eviction process is mishandled in any way, the eviction can be ruled invalid, and the entire process must start over—a waste of precious time and resources for the property manager or landlord. Ensuring the eviction process goes as smoothly as possible allows property owners, landlords, and property managers to focus on quickly getting their investment back on the market, and bring in more revenue.
Bennett Movers can help you do all that and more. Not only are we available to help provide the necessary support and advice to property managers and landlords, our team of Westchester eviction movers will also make arrangements for packing, moving, and storage well after the eviction process is over.
How Much Do Westchester Eviction Movers Cost?
Moving can cost anywhere from $400-$2,5000 depending on various factors, such as the number of items moved, the traveling distance between locations, and any additional services that you may require—packing, de-assembly, reassembly, or temporary storage. With Bennett Movers, customers can receive easy-to-pay flat rates depending on the amount of space your move requires in our largest-sized truck.
Who Needs A Westchester Moving Company?

Anyone in charge of rental properties—residential or commercial—should be familiar with the Westchester County eviction process as well as the laws surrounding the process within their jurisdiction. Bennett Movers provides an opportunity to bring in over 25 years of experience in eviction when needed.
If you're new to property management—whether you are an individual landlord or a real estate or property management company—the complex dynamic between landlord, tenant, and the courts can be overwhelming and distract you from your investment. There are piles of paperwork to deal with, a calendar full of appointments, and even scheduled meetings with the local sheriff's department. A team specializing in Westchester eviction is a life preserver in a sea of bureaucracy.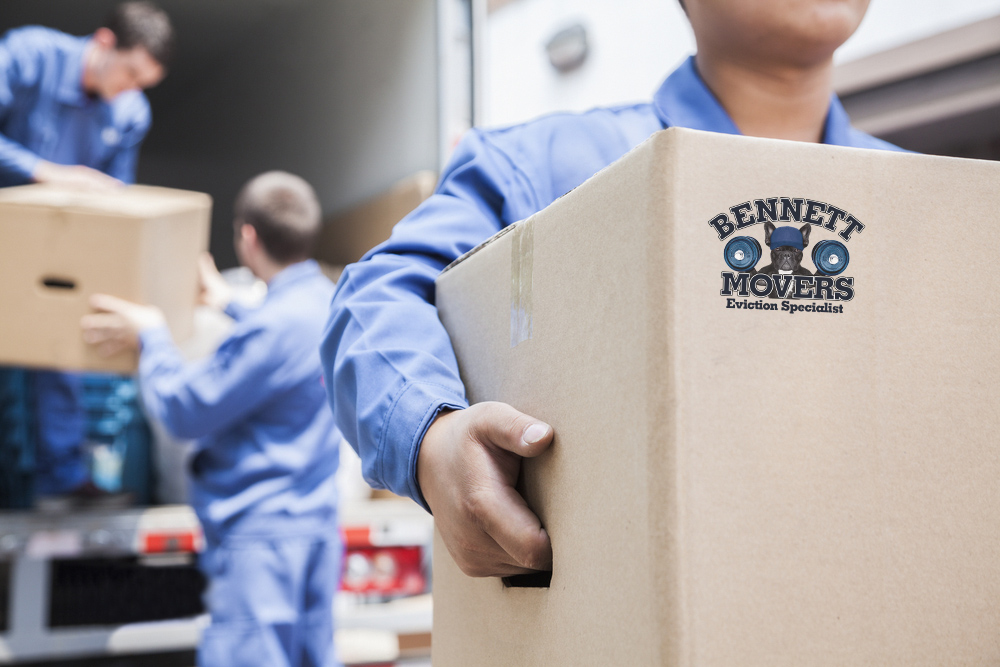 For larger property management companies, the benefits of bringing in a team of Westchester eviction movers allow customers to focus on seeking out new-income properties and maintain the rest of their portfolio. Outsourcing the eviction process to a specialized team keeps them from being tied down in court when they could be out bringing new business in and further securing their investments.

Why Bennett Movers?

Bennett Movers has been providing and offering affordable and competitive rates along with incomparable service for more than two decades in the Westchester area. Their experience is spread across residential and commercial properties, which include office and warehouse spaces, storefronts, single- and multi-family residential homes and even large apartment complexes.
The team of eviction movers in Westchester stands ready and willing to provide all the required forms and documentation for banks, the local county sheriff's department, courts, and tenants. With their customer-centered policy, you'll never find a job too big or small for Bennett Movers.
In addition to offering affordable rates, Bennett Movers also does not require upfront deposits. We understand that landlords, property owners, and property managers dealing with the Westchester County eviction process are often dealing with financial constraints. Income streams have been interrupted, and financial status can be unsteady until the issue is resolved.
We believe in working with their customers to make sure the eviction is processed quickly and efficiently so everyone can get back to business with as little interruption as possible.
In order to make the process as smooth as possible, we are available to assist with the necessary paperwork, coordination, physical moving, and even making storage arrangements and plans for 30 days. Every step in the eviction process will be with us by your side to share a lifetime of lessons learned in the real estate eviction business.
Call the Team of Local Movers in Westchester County
Property managers, landlords, and owners throughout the Westchester County area have consistently recommended Bennett Movers, time and time again. We are known for their professionalism, efficiency, speed, and quality. Their sterling reputation has been well earned and cemented over 25 years in the business, making them an industry leader in the New York and New Jersey area.
Owners, landlords, and property managers never go into a lease agreement hoping to evict the tenant down the road, but the fact that it happens is an unfortunate fact of the world. Bennett Movers can reduce the stress and difficulties of a complicated situation by smoothing the way ahead with their highly trained and experienced team of eviction movers in Westchester.
Evicting tenants is difficult for all parties, and no one wants to end up there. But you don't have to do it on your own; Bennett Movers can make the process quick, painless, and as easy as possible. Call the team of eviction movers in Westchester today for a FREE quote, and get your rental property back in no time!