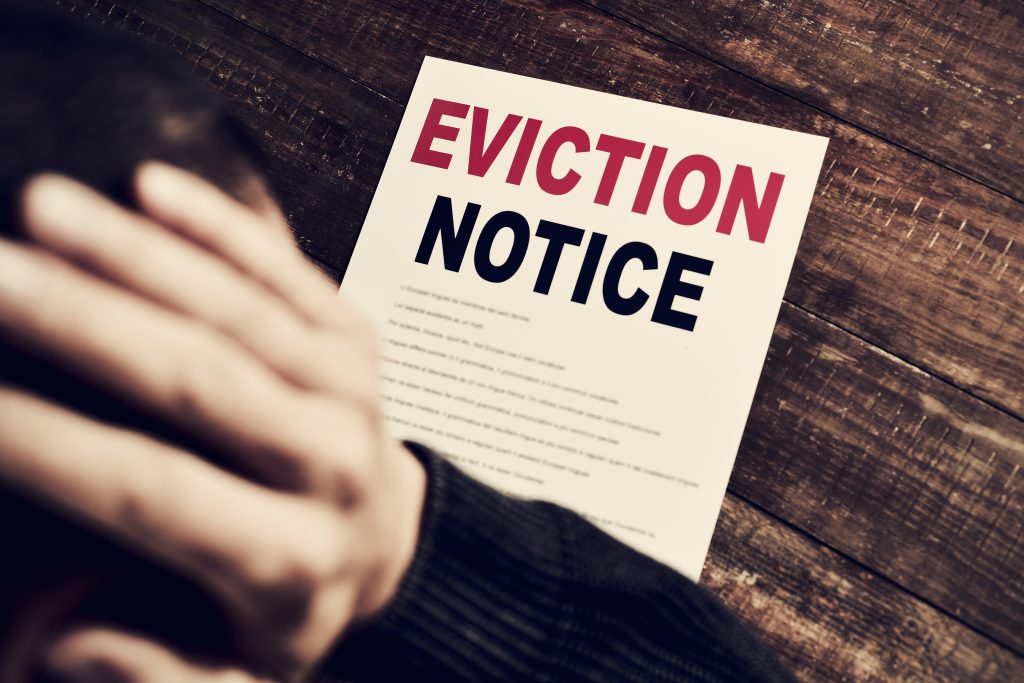 The eviction process is notoriously unclear, which is why we get a lot of questions on the topic, ranging from "how do evictions work?" to "what can I be evicted for?" Our decades of experience allow us to answer these common questions for our clients, which we have outlined below.
How do Evictions Work?
An eviction is a legal process that starts with an official termination of a lease by a landlord. Landlords are required to give proper notice of termination, which can be anywhere from 7 to 30 days depending on the state. If the tenant does not vacate, a hearing will be held in a local eviction court and a judgment handed down.
In a case where the eviction is found to have sufficient legal backing, the tenant will be notified of the official eviction date, which is when they must vacate by. Also notified will be the sheriff, who will help facilitate eviction paperwork and ensure that the tenant has left the property on or before the assigned date.
How long does it take to evict someone?
The length of the eviction process varies, but barring any unforeseen delays, it takes about five weeks to three months to evict a tenant.
How long does it take to evict a tenant in NYC?
The average amount of times it takes to evict a tenant in NYC is about three months, though in some cases it may take six months or longer.
What are the reasons a landlord can evict a tenant?
A landlord must have a legally sufficient reason to evict a tenant. These include:
If it is the end of the lease period and the landlord does not wish to renew.

If the tenant violates a term or terms in their lease, which includes not paying rent.

If the tenant is conducting illegal activity in the property.

If the tenant causes extensive property damage.
If a landlord tries to evict a tenant for a non-legally sufficient reason, the judge will deny the eviction when the case goes to its hearing.
What do I do if I am evicted?
If you are evicted you must vacate the property by the assigned date. At Bennett Movers, we offer eviction services that help tenants navigate this process, including moving services, short term storage services, and assistance with the necessary eviction paperwork.
If you have been evicted from your rental property, contact us today to learn about our affordable services. We specialize in New York eviction services and can help you through each step of the eviction process.
How long do you have to move out after eviction?
An eviction notice should outline how many days a tenant has to vacate an apartment. With or without a lease a renter should expect to have 30 days to vacate an apartment upon receiving an eviction notice.
What does a Notice to Quit mean?
A Notice to Quit tells a tenant they must comply with the conditions of their lease or the tenant must give up (quit) their rental property. A notice to quit is often served under circumstances such as failing to pay rent, having too many people living in an apartment, or having pets, not allowed in the building.
Can a landlord evict you without going to court?
In the state of New York, a landlord must file an eviction lawsuit in order to evict a tenant. After the lawsuit is filed, a hearing will be held for the landlord and tenant can present their cases to a judge. Should the judge rule in favor of the landlord, the landlord will receive a warrant of non-payment, giving the landlord the authority to have the tenants removed.
Do you have to pay back rent after eviction?
A tenant who has been evicted may still be held liable for any past due rent. A landlord has the right to sue to claim the rent they are owed.
What are your rights as a tenant without a lease?
Tenants without lease agreements have many of the same rights as renters with leases. For instance, in the state of New York, the legal eviction process requires the landlord to issue the tenant a notice to quit. The difference for a tenant without a lease is that the landlord is not required to provide a reason for the eviction.
Do moving companies provide boxes? 
Moving companies provide moving boxes as well as packing services if you need assistance with packing too.
Will moving companies pack for you?
Full-service moving companies will pack for you – they will provide boxes, pack, and transport your belongings to your new home.
Is a notice to vacate an eviction?
A notice to vacate is not necessarily an eviction. A landlord can deliver a notice to vacate at the end of a lease or if the tenant has broken the lease agreement. Therefore, a notice to vacate is not an eviction, but it could be the start of the eviction process if a tenant has violated the terms of the lease.
Can a landlord throw out my belongings?
If you have been evicted you have 72 hours to vacate the property. Any items left behind after 72 hours may be disposed of. Bennett Movers offers 30-day storage for items removed during the eviction process. 
How much should I tip my movers?
There isn't a standard tip for movers, anywhere from $5-$20 per mover is accepted. It is also common to tip $5 per hour per mover. However, you choose to tip, the important thing is to be sure to tip each mover individually.
How much does a moving truck cost?
At Bennet Movers, we charge based on the amount of space taken up inside our 26ft moving trucks. See our pricing details here.
How long do evictions stay on your record?
An eviction report can stay on your rental history for nearly seven years. Rental history is usually provided by tenant screening companies. However, eviction can also impact credit history – find out more about how eviction affects your credit score.
How long after foreclosure do I have to move?
After foreclosure, residents have 90 days to move out. Even if the foreclosed home has been resold, federal law allows the previous owner 90 days vacate.
What Is An Eviction Moratorium in NYC?
An eviction moratorium is put in place to prohibit landlords or property owners from removing covered tenants due to unpaid rent. While it pushes the debt into the future, it does not forgive the rent that is ultimately owed to the landlord. After the moratorium ends, tenants must pay back any amount of rent that is owed.
What Are Public Assistance Services?
The New York City Human Resource Administration (HRA) offers a variety of public assistance services for eligible citizens, including food and cash assistance, emergency rental assistance, services for those with disabilities, and shelter for survivors of domestic abuse. For any recipients of Cash Assistance who are also moving, you may be eligible for public assistance help with:
Moving expenses
Security deposit vouchers
Broker's fees
Temporary storage for furniture and personal belongings if you are being evicted from permanent housing or must move from temporary housing
At Bennett Movers, we provide HRA moving assistance for anyone who qualifies at no cost. For more information, please click here.
What Happens at an Eviction Hearing?
Eviction hearings are pretty straightforward. If a tenant has violated their lease agreement but does not vacate the property within a certain deadline, then a landlord can file an unlawful detainer suit with the local court. The courthouse will then set a date for a hearing to which both parties must agree. The tenant and landlord will both be expected to supply evidence of their case and should be ready to defend themselves. For landlords, we advise bringing along any and all documentation pertaining to lease agreements and proof of violation. This can include the following: 
Lease agreement
Official notices
Emails or letters from the tenant
Notes about phone conversations with the tenant
Written statements from neighbors
Police reports
Photographs of damages
Building inspection reports
If you need help with any of this, or if you have questions about evicting tenants in New York City, please contact Bennett Movers for more information.